If I'm being honest, Cefalu is THE reason for my trip to Sicily and it beyond exceeded my expectations. It's the town where my paternal grandfather's family is from and while my family might be biased, I've heard it's the most beautiful part of Sicily!
Aside from Cefalu being beautiful there were only a few things I knew about this Sicilian hidden gem prior to my visit, like the road along the water is named "Lungomare Giuseppe Giardina", not that anyone would care about that me, so Cefalu Sicily travel guide is just as much for me as it is for all of you.
Cefalu is a coastal city in northern Sicily, Italy that is a very popular vacation destination with Sicilians and other Italians. This beautiful historical city is a fishing port at heart, but is truly one of the most picturesque locations in all of Sicily. It's beautiful beaches, ancient ruins, hilltop castle, fortress like cathedral and amazing food are just some of the reasons that it's so loved.
After visiting it's truly no surprise that after Taormina and Palermo, Cefalu is probably the most popular tourist town in Sicily!
Cefalu Travel Guide
Best Time to Visit Cefalu
The best time to visit Cefalu, and pretty much all of Sicily, is May-June and September-October. The weather is dry and warm, perfect for exploring and also enjoying the beautiful beach that Cefalu is known for.
I know most people dream about that perfect Sicilian summer vacation, but July and August bring insanely hot temps, humidity and huge crowds, so I'd probably avoid visiting during those months.
We visited during the end of April and I can't recommend a shoulder season trip enough! The weather was PERFECTION (in the mid 70s), the crowds were minimal and prices were much lower then the more popular months.
How Many Days Do You Need in Cefalu?
To be completely honest this is a loaded question. If you're just passing through, you only technically "need" a few hours to see pretty much the entire city. We spent 5 hours in Cefalu and got to see almost everything, and while I wish we could've stayed for days it just didn't work with our itinerary.
One day is also a perfect amount of time to spend in Cefalu especially if you're touring the entire island. Its a great place to stop for a night on your way to (or from) Palermo from a west coast town like Messina or Taormina.
Alternatively you can spend a few days in Cefalu truly taking advantage of the beautiful beaches, restaurants and more! Like I mentioned above, Cefalu is one of the most popular holiday destinations for Sicilians and Italians and you could easily spend days relaxing.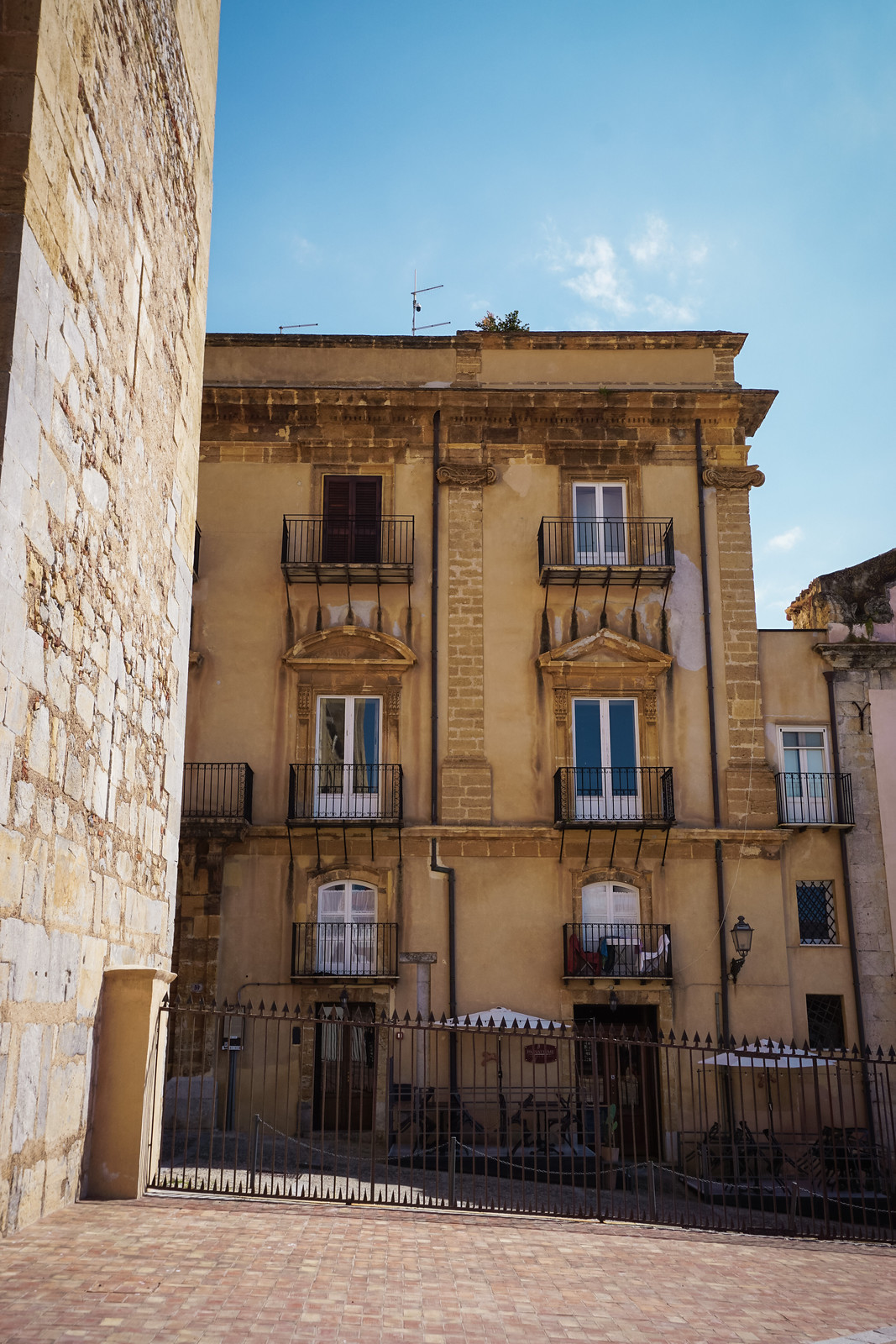 How to Get to Cefalu
Most people tend to visit Cefalu from Palermo and the cheapest option to travel between the two cities is by train. It takes about 50 minutes, the trains run frequently and tickets are inexpensive (about 6€ each way).
If you're visiting from anywhere else in Sicily then I suggest hiring a driver to take you there. We visited Cefalu on our way from Taormina to Palermo so this was basically our only option. We didn't mind it at all and heard it was the best and safest way to make the trip considering we had all of our luggage with us. Also, we hired a driver for the day to pick us up at our hotel in Taormina, drive us to Cefalu, wait with our luggage for 6 hours while we explored and then drive us to Palermo.
If you rent a car and drive to Cefalu because it's one stop on your trip around Sicily just know that like most Sicilian cities, parking is very scarce and if you do happen to get a parking spot, payment and regulations can be confusing. You'll probably have better luck finding a place to park in the "new town" near the train station and walk to the historic town and beach where you'll want to spend your time.
How to Get Around Cefalu
Walking is the best and easiest way to get around Cefalu! Once you're in Cefalu, there is no reason for a car because this small fishing town is very walkable!
What to Do in Cefalu Sicily
lounge and swim at Spiaggia di cefalu (cefalu beach)
It wouldn't be a trip to Cefalu without a visit to the beach, even if you're not visiting during beach weather it's pretty impossible to not take a stroll along the seafront promenade to marvel at the blue sea.
Unlike many other Sicilian coastal towns, the beach in Cefalu is not rocky!
walk along porto vecchio (old port)
The fishing port of Cefalu offers the most beautiful beautiful view of the town and if you've ever see a photo of Cefalu from the water this is most likely where it was taken.
From the concrete walkway that juts out into the sea you can see everything from the beach, the beautiful homes, the tip of cathedral and even La Rocca from it, making it the most picture perfect place in all of Cefalu.
Wander the picturesque streets of the old Town
The streets of Cefalu are oozing with charm without even trying. Picture perfect restaurants, cannoli carts, granita stands, clotheslines connecting one building from another, sheets hanging off balconies, if you didn't know better you would think you just walked onto a movie set.
Visit the Duomo di Cefalu (cathedral of Cefalu)
One of the oldest buildings in Cefalu dating back to 1131
It dominates the skyline of the medieval town and has fortress like character.
One of the finest examples Italian Moorish architectural with Norman, Byzantine, Islamic and Arab influences
The Duomo di Cefalu isn't anything like the churches you see in other parts of Italy and was truly amazing.
The Cathedral of Cefalu is a UNESCO World Heritage Site & "an outstanding example of a socio-cultural syncretism between Western, Islamic and Byzantine cultures"
The cathedral is free to enter and open daily for visitors, but you can also take a tour. As always when visiting a church it is requested that appropriate clothing is worn and is something to keep in mind when visiting during the warmer months.
Hike la rocca di cefalu
La Rocca is the mountain that sits as the backdrop of Cefalu
The mountain top was once the site of a Norman castle, Castello di Cefalu, now the top of this hike offers one of the best views of Cefalu and it's coastline
Open from 8am to 5pm April to October and 9am to 4pm November to March. Entrance is 5€.
Round trip the hike itself is about 2.2 miles and moderately challenging.
I highly suggest not doing this hike in the summer as it can get VERY hot in Cefalu, if you are visiting in the summer and want to visit La Rocco plan to go early in the morning.
No Cefalu travel guide would be complete without including a hike to La Rocco, but sadly it was one thing I didn't get to do when I visited (guess it just means I have to go back)
Visit the ruins of Tempio di Diano
It's believed to be a Roman temple dedicated to the goddess Diana dating to the 4th century BC, but there is a lot of mystery surrounding the monument. Some historians even claim it's the oldest structure in Sicily.
Offers a beautiful view over the orange roofs of the old town and blue sea
Tempio di Diana is on the path to the top of La Rocca, about 500 meters from the start of the route
Where to Eat in Cefalu
There are truly no bad (or too touristy) places to eat in Cefalu. And there are so many options with views of the sea or the Duomo! Remember Cefalu is a fishing village so you're going to find the freshest of fish of every restaurant!
Where to Stay in Cefalu
3 star hotel
Location is great, right outside the old city!
Recently renovated
Amenities include:

Free continental breakfast
Airport shuttle available
Parking available
Free WiFi
Air conditioning
5 star hotel
Beach hotel with spa near Caldura Beach
Amenities include:

Pool with poolside bar
Free buffet breakfast
Spa
Airport transfer available
Free parking
Free beach shuttle
Free WiFi
4 star hotel located in an ancient manor house on a hill surrounded by lush gardens with panoramic views.
Amenities include:

Free WiFi
Free parking
Full service spa
Pool
Free beach shuttle
Private beach access
4 star hotel near Caldura Beach
Direct access to a private beach and panoramic terrace overlooking the sea
Amenities include:

Free WiFi
Air conditioning
Pool
Free parking
Airport transfer
4 star hotel close to the beach with a rooftop terrace
Amenities include:

Free class Italian breakfast
Free WiFi
Air conditioning
Airport transfer available
Small B&B located in a charming Sicilian house in the city center just a few steps away from the sea.
Amenities include:

Free breakfast
Parking available
Airport transfer
Free WiFi
Air conditioning
PIN my Cefalu Sicily Travel Guide for LATER: