Alright guys you finally wore me down and got me to share my best-kept secret, the best Florida beach town, Vero Beach! My dad has owned a townhouse there since 2007 and over the past 14 years, it's become one of my favorite places to visit!
Vero beach is truly a hidden gem of Florida! Located in Indian River County along Florida's Atlantic Coast. It is definitely one of the lesser commercialized places, but not doubt one of the most beautiful! It boasts miles of pristine coastline and beautiful, uncrowded beaches and I'm ready to introduce all of you to it!
15 years when I first visited it was a fairly unknown part of Florida, a true sleepy beach town, but now it's ranked as the 2nd strongest real estate in the country and is seen as the "Hamptons" of Florida! It's the low-key tropical escape for everyone who wants to relax out of the spotlight of Palm Beach and Miami and the ultimate Florida getaway! There's truly something for everyone here and after reading this post I guarantee you'll be planning your trip ASAP!
Things to Do in Vero Beach
Spend the Day at the Beach
You would be amiss if you visited Vero Beach and didn't visit the beach! Vero Beach is home to some of the most beautiful beaches in Florida (I'd actually go as far to say home to some of the most beautiful beaches in the country). With multiple wide open, white sandy beaches and tropical blue water that surprisingly isn't crowded it's easily on the top of my list of things to do in this place.
My personal favorite beaches in Vero are Tracking Station Beach (800 46th Pl, North AIA, Vero Beach, FL 32963), South Beach (1704 Ocean Dr., Vero Beach, FL 32963), Round Island Beach Park (2200 South A1A, Vero Beach, FL 32963) and Jaycee Beach (4200 Ocean Dr., Vero Beach, FL 32963). Lifeguards are on duty for a majority of the day at all of these beaches and they all offer paved parking and restrooms.
Golf
While I'm not a golfer, I couldn't make a list of things to do in Vero Beach and not include it! While a lot of the golf courses are private, there are a handful in the area that are open to the public including Sandridge Golf Club and Vista Plantation Golf Club.
Fishing
Vero Beach is known for its fishing and has some of the top fishing charters in the state. You can fish the Indian River all year for snook, redfish, trout and tarpon. Or you can fish the reefs and wrecks just a few miles offshore in the Atlantic for grouper and snapper or go on deep-sea charters for sailfish, mahi-mahi and more!
Go Kayaking or Paddle Boarding
Indian River Lagoon is one of the most diverse waterways in North America and home to wildlife such as manatees, dolphins, rays, birds, fish, turtles and more.
There are many companies that offer guided tours like Get Up & Go Kayaking, who have clear kayaks, or Paddles by the Sea, that offer paddle board rentals and kayak rentals (along with other rentals).
Shopping on Ocean Drive
Ocean Drive runs parallel to the beach on the barrier island of Vero Beach and is lined with shops, restaurants and hotels. The boutique shops carry everything from clothing to shoes to jewelry to home items and more! And it's not just casual beachy styles that you expect from a vacation destination like this, but truly a mix ranging from designer to more touristy items. There is also ample free parking so you rarely have to worry about finding a spot.
My favorite stores include Twig Swim & Sportswear (3213 Ocean Dr, Vero Beach, GL 32963), Treasure Lane Boutique (966 Beachland Blvd, Vero Beach, FL 32963) and The Beach Shop (3328 Ocean Dr, Vero Beach, FL 32963).
Vero Beach Outlets
Located just off I-95 (1824 94th Dr, Vero Beach, FL 32966), the Vero Beach Outlets is the Treasure Coast's premiere outlet shopping destination and offers a large selection of stores including Coach Outlet, adidas, Rack Room Shoes & Restoration Hardware Outlet.
Riverside Theatre
Riverside Theatre (3250 Riverside Park Dr, Vero Beach, FL 32963) is a non-profit, professional producing theatre featuring musicals and plays. With close to 300 performances on three stages each year, Riverside Theatre is the area's only professional, not-for-profit theatre.
Most Fridays & Saturdays from 5:30pm-9:00pm Riverside Theatre has outdoor live music with casual dining under the oak trees. Tickets aren't required for free open seating just bring your own lawn chair or purchase reserved seating under the new covered tents.
McKee Botanical Gardens
The McKee Botanical Garden (350 US-1, Vero Beach, FL 32962) is a non-profit, subtropical 18-acre botanical garden. It's a Florida Landmark, listed on the National Register of Historic places and recognized by the Garden Conservancy as a preservation project of national significance.
Tickets cost $15 each for adults, seniors & teens $13 each and children are $10 each.
Live Music at the Piano Bar at The Caribbean Court Boutique Hotel
Located on Orchid Island, the barrier island of Vero Beach, the Caribbean Court Boutique Resort (1601 Ocean Dr, Vero Beach, FL 32963) is a uniquely decorated 18 room hotel with antique furnishings, hand-painted tiles and original artwork. And the best part of this hotel is the Havana Nights Piano Bar located atop the Maison Martinique that features live entertainment nightly, a tapas menu, tropically inspired full dinner menu, and fantastic craft cocktail, beer and wine list! This is a HOT SPOT so make sure to get their early.
Grind + Grape
Serving espresso drinks and pastries during the day and wine and live music at night, Grind + Grape (925 Bougainvillea Ln, Vero Beach, FL 32963) is such a hot spot! Breakfast is served all day, Saturday & Sunday Jazz Brunch on the Patio, handcrafted cocktails, seasonal coffee drinks, nightly live music, Italian gelato and more are just a few reasons to love Grind + Grape.
Oceanfront Lunch at Waldo's
This laid-back landmark that's built out of driftwood by pioneering Vero settler Waldo Sexton in 1935, Waldo's Restaurant at the Historic Driftwood Resort (3150 Ocean Dr, Vero Beach, FL 32963) is a Vero Beach institution. An oceanfront lunch at Waldo's is a MUST if you're visiting Vero. Order the Beconshire Nachos, Southern Style Fish Tacos or Key West Style Wrap.
Weekend Brunch at Vero Beach Hotel
One of my favorite hotels in this travel destination is also the home to one of my favorite places to get brunch on the barrier island. Cobalt, the beachfront Vero Beach restaurant, serves brunch every Saturday and Sunday from 8:00am-3:00pm and it is as picture perfect as you can imagine. Highly recommend grabbing a table outside and order the Bloody Mary, Avocado Toast, any of the Cobalt Benedicts and the TUNA NACHOS!
Make sure to stay for drinks around the fire pits after your meal or over to Heaton's at the Kimpton Vero Beach Hotel for Happy Hour and live music!
Happy Hour at Heaton's Oceanfront Bar
One of the best happy hours in Vero Beach is at Heaton's Oceanfront Bar at the Vero Beach Hotel. From 3-4 everyday enjoy discounted drinks and food with pretty much the best view of the ocean!
Pelican Island National Wildlife Refuge
Pelican Island National Wildlife Refuge is America's first National Wildlife Refuge. Located in the middle of the Indian River Lagoon just off the western coast of North Hutchinson Island (4055 Wildlife Way, Vero Beach, FL 32963), the refuge was created to safeguard the last remaining nesting habitat for brown pelicans and other wading birds on America's East Coast along with protecting other endangered and threatened species.
Cocktails at The Wave Kitchen at Costa d'Este Beach Resort
Owned by Gloria and Emilio Estefan, Costa d'Este (3244 Ocean Dr, Vero Beach, FL 32963) is a luxury beachfront resort is another one of the best in Vero Beach. I like the menu at The Wave Kitchen menu, but cocktails at the bar are not to be missed. Order one of their specialty mojitos, you won't regret it! They also have a daily Happy Hour from 4pm-6pm when specialty cocktails are $7!
To-Go Tacos at El Sid Taqueria
Made with the freshest ingredients from farm to table El Sid (3300 Ocean Dr, Vero Beach, FL 32963) is new to the scene, but it has quickly become a local and visitor favorite. I always go for the WTF (weekly taco favorite) and a Pollo Asada Quesadilla.
Try Local Beer at American Icon Brewery
American Icon Brewery is a large, industrial-style brewery with an airy taproom. The restaurant residing in Vero Beach's Historic Diesel Plant in Downtown Vero (1133 19th Pl, Vero Beach, FL 32960). It's a favorite spot for families and friends to gather and hang out. Not only do they offer a rotating selection of their own beers on tap, but also other local varieties.
Farmers' Market Oceanside
The Farmers Market is open weekly every Saturday from 8am to noon at Huminston Beach Park (2901 Ocean Dr, Vero Beach, FL 32963). Shop over 30 farmers market vendors and more than 400 products including produce, seafood, plants pastries and other items. It's a popular spot for both locals and visitors alike!
The Tides
I'm not really sure why it took me 14 years to eat at The Tides, but it was definitely one of the best meals I've ever had! It's a TRUE fine dining experience and offers a blended variety of Latin, French, Caribbean and American Southern tastes. The staff is like no other, the menu is amazing and the rotating specials are not to be missed! Order the Flash Fried Calamari, Grilled Portabella Mushroom "BLT", Pan Seared Potato Crusted Grouper and save room for the Irish Oatmeal Cake. And make sure to make reservations, they book up well in advance!
Visit Countryside Citrus Farm
Depending on the time of year Countryside Family Farms (6325 81st St, Vero Beach, FL 32967) offers festivals, flower picking, a u-pick strawberry patch and more! Staying downtown? Visit their beachside location on Ocean Drive at El Sid and make sure to try their famous orange slushies.
Mulligan's Beach House
Looking for the perfect low-key meal, look no further than Mulligan's Beach House (1025 Beachland Blvd, Vero Beach, FL 32963). Located right on the water with the best view of the Atlantic ocean they offer breakfast, lunch and dinner, and live music from Wednesday to Sunday every week! My favorite items on the menu include their famous Bloody Marys, Sesame Tuna, Firecracker Shrimp & Baja Fish Tacos.
Seared Prime Rib at Bobby's
Bobby's Restaurant & Lounge (3450 Ocean Dr, Vero Beach, FL 32963) is a Vero Beach INSTITUTION and a must visit if you're in the area. The walls of the lounge are filled with autographed photos of baseball players, coaches and umpires that have visited the restaurant and if you're lucky enough to catch owner, Bobby McCarthy, at the bar he'd be happy to tell you stories about every single one of them.
I've heard that everything on the menu is amazing, but I've yet to personally order anything but the legendary prime rib seared on the grill. It's BEYOND amazing and easily one of those meals that you'll dream about after eating it. Make sure to get it with their horseradish sauce on the side!
Kilwin's Ice Cream
You'll have a hard time not stopping in Kilwin's Chocolates & Ice Cream (3001 Ocean Dr, Vero Beach, FL 32963) once you walk by because the smell of fresh baked waffle cones outside is nothing short of intoxicating. Inside you'll find fudge, caramel apples, hand-dipped chocolate and of course ice cream.
Breakfast at Kountry Kitchen with Love
This laid back, Southern style breakfast and lunch spot is a must visit if you're in the area. Kountry Kitchen (1749 Old Dixie Hwy, Vero Beach, FL 32690) is famous for their biscuits, Belgian waffles, & french toast! Note that this is a cash only establishment and open daily only until 2pm.
Vero Beach Museum of Art
The Vero Beach Museum of Art (3001 Riverside Park Dr, Vero Beach, FL 32963) houses regional, state and national art exhibits and includes a sculpture garden. Aside from it's many exhibitions and collection of art the VBMA also hosts art classes, community events and special youth events. Tickets can be purchased in advance for only $8 for adults, $7 for seniors and children until 17 are free!
The Indian River Citrus Musuem
Looking to add a little bit of history to your trip, then make sure to stop by the Indian River Citrus Museum (2140 14th Ave, Vero Beach, FL 32960)to discover how citrus seeds made their way to Florida and the story of how area pioneers established the most distinguish citrus fruit in the world.
Picnic Lunch at CW Willis Family Farms Grill
The Grill at CW WIllis Family Farms has only been open for a few months, but it's already a hot spot! They serve breakfast, lunch and weekend brunch and have live music every Saturday!
Taco Dive
Taco Dive (1901 14th Ave, Vero Beach, FL 32960) is not your average Mexican restaurants, their taco fillings are anything but ordinary with hot dog, corned beef and more interesting and inventive items on the menu! My favorite tacos were the Taco Bella and Cajun Shrimp and don't skip out on the nachos!!
Mclarty Treasure Museum
The McLarty Treasure Museum is located south of the Sebastian Inlet State Park (13180 North AIA, Vero Beach, FL 32963) and is a great museum that paints the story of the ill-fated 1715 fleet of eleven Spanish ships laden with gold, silver, copper and riches as they were heading back to Spain. All 11 of the ships sank close to shore in a hurricane.
Italian Food at Pomodoro Grill
Being from New York I'm a bit of a snob when it comes to Italian food and pizza and I have to say that Pomodoro Grill exceeded my expectations for both outside of of the Tri-state area! The pizza is LITERALLY amazing, they serve small pies in restaurant, but you can get a large pie to go! And the Fra Diablo sauce is one of the most amazing sauces I've ever had! We literally ordered a bowl of it and put it on everything we got.
Galleries Art District
You might not know it but Vero Beach is home to many art galleries! The Galleries Art District in Downtown Vero has tons of art galleries and also antique shops, historic buildings and more.
Southern Style Food at Chill & Grill
Chill & Grill is a family owned and operated restaurant with a menu that focuses on fresh local ingredients, simple Southern and home-style cooking and select house smoked meats! The menu is small and changes frequently, but if you see the Blackened Shrimp & Grits and the Peanut Butter Pie on it ORDER THEM!!
Drinks & Live Music at Kilted Mermaid
Kilted Mermaid is a neighborhood craft beer and wine bar featuring more than 25 local and global wines by the glass and 80+ craft and import beers! It's a funky, eclectic pub with a chill atmosphere, unconventional menu with lots of vegan options and fondues and live entertainment including Open Mic nights, trivia and local musicians!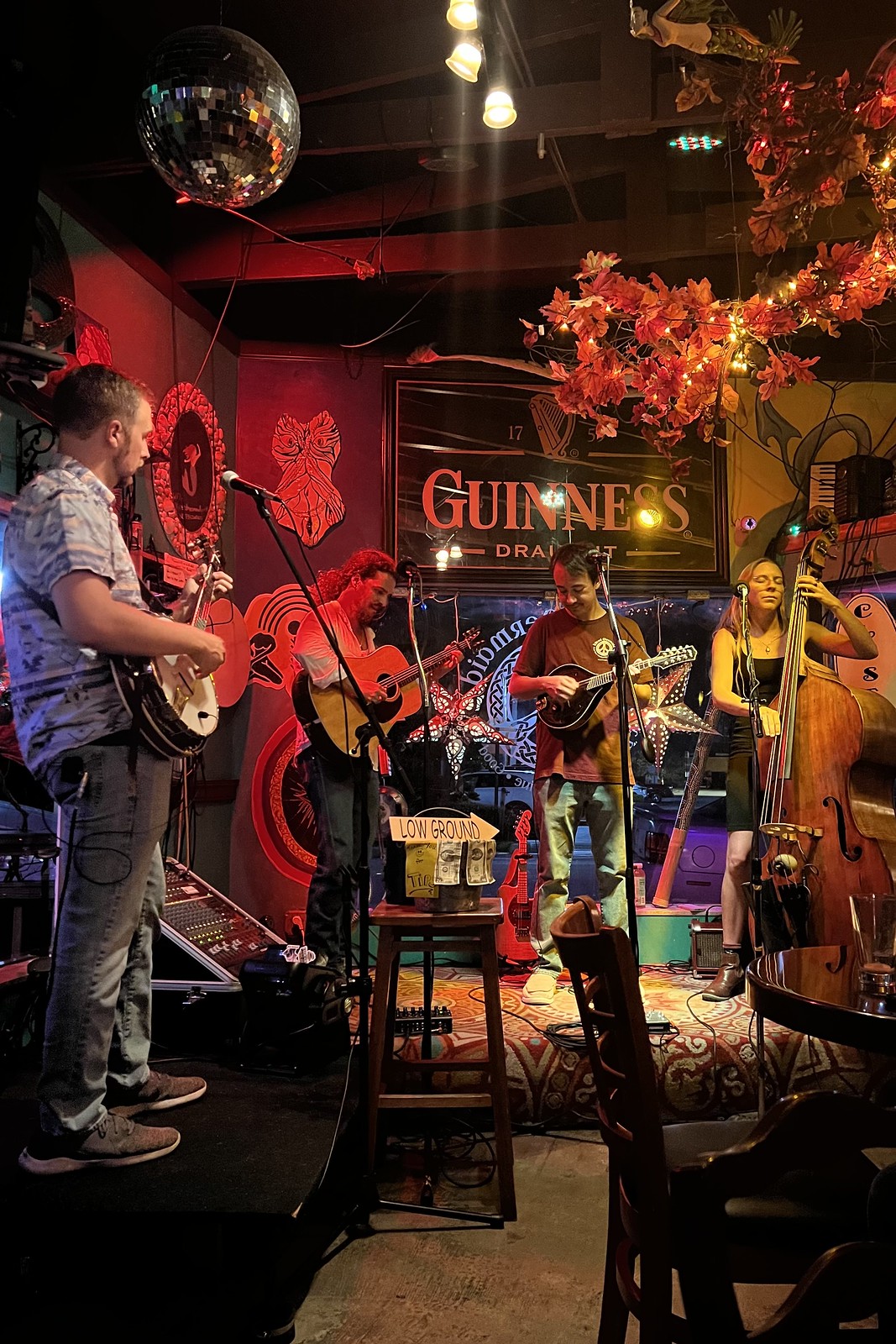 Breakfast at The Lemon Tree Restaurant
The Lemon Tree Restaurant (3125 Ocean Drive, Vero Beach, FL 32963) is one of the best places for breakfast in town, especially if you're staying on the island! Elevated basics like eggs benedicts, omelets, avocado toast and more!
Vero Beach Tourist Information
Where to Stay
An Oceanfront Kimpton Hotel located on Central Florida's Treasure Coast
2 Restaurants on the property:

Cobalt – Beachfront Vero Beach restaurant with several "scenes" to choose from: a casually elegant dining room, lounge and open-air dining on their oceanside patio. They also have oceanfront fire pits where you can enjoy drinks. Open for breakfast, lunch, brunch, happy hour & dinner.
Heaton's – Waterfront restaurant with outdoor patio. Open daily for lunch, happy hour and dinner.

Amenities include:

Spa
Outdoor Heated Pool
24/7 Fitness Center
Yoga mat in every room
Complimentary Micro Kickboard Scooters
Complimentary morning coffee and tea in lobby
Hosted evening social hour
Game Room

Pet Friendly!
Travel + Leisure named it in the Top 10 Resort Hotels in Florida
An Oceanfront Hotel owned by Gloria & Emilio Estefan
2 Dining Options on the property:

The Wave Kitchen & Bar – features fresh locally sourced seafood and produce as well as select Cuban specialties. Open for breakfast, lunch and dinner.
Cabana Pool Bar & Grill – Poolside dining open for breakfast, lunch and dinner along with happy hour daily.

Amenities include:

Outdoor Pool
Spa
Fitness Center
Complimentary water sports. Including stand-up paddle boards, kayaks and boogie boards
Complimentary beachfront lounge chairs and umbrella
Complimentary beach cruiser bicycles

Pet Friendly!
Best Time to Visit
I truly don't think there is a bad time of year to visit this popular destination, but if I had to pick I would say between October and April, the humidity isn't too bad and it isn't too hot yet. The summer can be quite brutal heat wise, but its not unbearable. And August and September is hurricane season so keep that in mind if you're booking a trip during that time.
What to Bring
Beach gear including a swimsuit, sunscreen, hat and more! No need to pack chairs or towels, most hotels will provide them for you.
Lightweight clothing and a light jacket or sweatshirt for night. The temps rarely drop below 50 degrees no matter what time of year you visit. But I always like to be prepared.
What to Wear in Vero Beach
Vero Beach is a very casual place to visit. There truly aren't any places in the city that you can't wear shorts and sandals to get into. So leave your fancier items at home and fill your suitcase with beachy, vacation items.
Parking Fees/Do You Need a Car?
Parking everywhere is free and I've never had trouble finding a spot anywhere.
If you're staying on the barrier island and don't plan on venturing very far you absolutely don't need a car as everything you need – stores, restaurants and the beach are all within walking distance. If you're staying on the main land then I would definitely rent a car.
Close Airports
Flying into Vero Beach for vacation? Here are the best airports to fly into:
Vero Beach Airport – This airport is just opening up to commercial flights. However, there are a few flights a week to and from NY with more coming in the future.
Melbourne Orlando International Airport – (42 miles north of Vero Beach) Not a major airport, but there are many flights in and out to many East Coast cities.
Palm Beach International Airport (82 miles south of Vero Beach) – This is my preferred airport to fly into when visiting as they have multiple daily flights in and out from every NYC airport including Westchester Airport.
Orlando International Airport (99 miles northwest of Vero Beach) – Orlando airport can be kinda crazy because of Disney World. So I tend to avoid it. But if the price is right I don't mind flying in and out of here.
PIN this Guide for LATER:
Looking for more Florida Travel Guides? Check out my Florida Keys Guide & Orlando Guide.
Location: Vero Beach, FL