If there's one city in the country that I could visit over and over and over again and never get sick of it, it would be Charleston, South Carolina! It is one of the dreamiest cities I've ever been to. Every time I visit I fall more and more in love with it! The colorful homes, the amazing food, and the people. Also, it has a rich history and there is literally NOTHING I don't love about it. So today I'm sharing 10 of my favorite things to do when I visit. Also, what you must do in Charleston on your next trip!
Charleston is a port city in South Carolina. It is founded in 1670 and defined by its cobblestone streets, horse-drawn carriages and pastel antebellum houses. Tourists are drawn to the area because of its eclectic art and style scenes. It also has historic homes, brick-walled downtown area and southern charm among other things.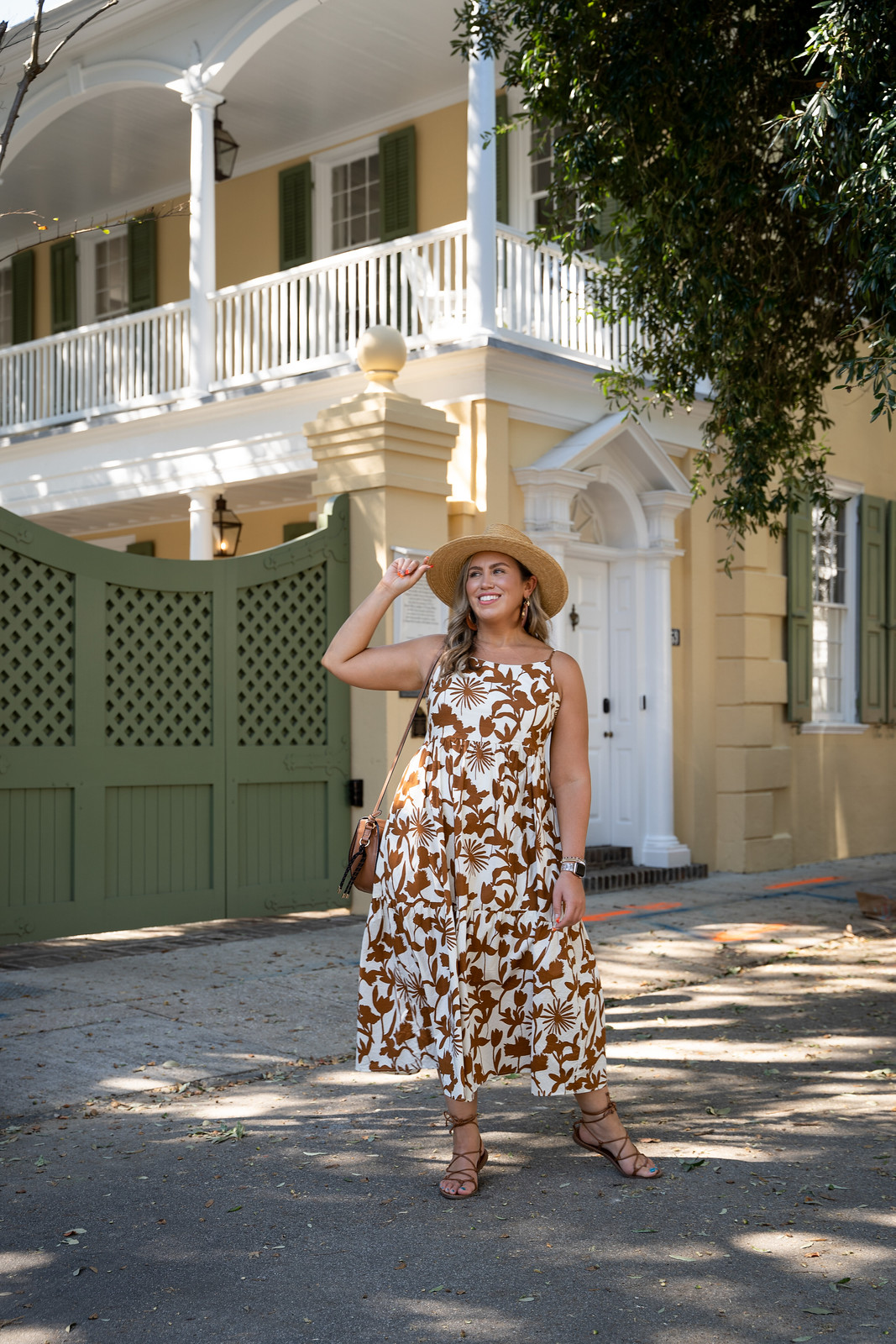 There are PLENTY of activities that Charleston.
It has a lot to offer depending on your interests. So I've rounded up ten of my personal favorites. Also, I included more activities you may be interested in on the bottom! Also if this is your first time visiting Charleston I highly suggest checking out my First Timer's Guide to Charleston. It's one of my most popular travel posts and has a great itinerary that should help you plan your trip!
10 Things You Must Do in Charleston
Two Sisters Walking Tours
I've done multiple guided tours in Charleston over the years. The Two Sisters Tours is the hands down the best one. Experience the charm of Historic Charleston in a two hour walking tour with local guides. Native Charlestonian sisters, Mary Helen Dantzler and Therese Smythe, take you through downtown Charleston's historic district along it's most beautiful streets.
Each tour of Charleston includes highlights of history and personalities of the past (and present). Also, it includes back streets and alleyways, Rainbow Row and The Battery. The tour also include architecture and earthquake bolts, gardens and wrought iron gates. Other included in the tour are Lowcountry myths and legends along. Also, the sisters personal tales of growing up in the city and their families history in the area dating back to 1793.
The sisters are so entertaining. I learned so much more on this 2 hour tour than I did in all the other tours I've taken combined!
Tours are very affordably priced at $25 a ticket and are limited to 20 people each. They run twice a day, Monday through Saturday and can be booked directly on their website!
Tours begin in Washington Park next to City Hall at 80 Broad Street.
---
Visit Rainbow Row & Explore South of Broad
Rainbow Row is the name for a series of thirteen colorful historic houses on East Bay Street between Tradd St. and Elliott St. along the Battery in Charleston. Rainbow Row is one of Charleston's most iconic landmarks, one of the most photographed spots in the city and it absolutely deserves a spot on every must do in Charleston list!
Here are a couple fun facts about this iconic Charleston attraction that may surprise you:
The houses were not always painted these colorful pastel hues! There's a lot of speculation as to what the true reason for the color transformation, but no one knows for sure!
There are now city ordinances in place to keep their pastel colors intact (there's actually a lot of interesting city ordinances to safeguard the integrity and character of the buildings in Charleston's historic district.)
These Georgian style homes were built between 1740 and 1792.
After the Civil War, this area was actually considered a slum and these houses were set to be demolished until Susan Pringle Frost took out a loan to purchase and preserve them.
If you want to photograph the vibrant houses of Rainbow Row in the best lighting I suggest going in the morning, you'll have a better chance of the street being less congested then too!
And while Rainbow Row may be considered the "prettiest street in Charleston" it isn't the only place with colorful houses, the entire South of Broad Neighborhood is filled with beautiful homes with the finest examples of historic architecture.
South of Broad is the historic neighborhood located on the tip of the Charleston peninsula.
It's known for it's opulent homes, cobblestone alleys, mature oak trees among many more things. It's home to St. Michael's Church, White Point Gardens, The Battery and Rainbow Row and is one of the most sought after locales in the United States! Carve out some time to explore this area make sure to stop by a few of my favorite houses: Nathaniel Russel House, the William Elliott House, the Alexander Christie House, the John Cordes Prioleau House, the Cleland Kinlock Huger House, the Parker-Drayton House…the list goes on and on and on!
Literally every home is picture perfect so grab a coffee and your camera and just walk up and down the streets South of Broad, you won't be disappointed. Make sure you don't miss Legare Street, this one in particular is a favorite of mine thanks to it's stately private homes, beautiful gardens and gorgeous iron gates (the largest pieces of property South of Broad are located here)! And take the time to read the plaques on many of the historic homes they're really interesting!
Rainbow Row: 83-107 E Bay St., Charleston, SC 29401
---
Dinner at The Ordinary
What used to be a bank in the 1920s is now an upscale Southern seafood restaurant and oyster bar known as The Ordinary. They aim to pair great food with great drinks and friendly, detailed service. And if you're able to get a reservation at The Ordinary take it (no matter what time) because it will be one of the best meals of your life!
We were able to get a reservation at 9pm at night and while it was late it was absolutely worth it! I literally can't even give you a recommendation for what to order because the answer is everything. I suggest asking your waiter for recommendations because they are extremely knowledgable when it comes to the menu and ours did not steer us wrong!
If the Crispy Oyster Sliders are on the menu when you go ABSOLUTELY order them! We literally started our meal with them AND ordered 2 more after we were done eating to end our meal with them! They are THAT good! The menu rotates a lot, but we got the Smoked Oysters, Beeliner Snapper, Mustard Crusted Grouper and New Orleans Style BBQ White Shrimp (all recommendations from our waiter) and I promise you won't be disappointed with any of these dishes!
544 King St., Charleston, SC 29403
---
Biscuits at Callie's Hot Little Biscuit
It's not a trip to Charleston without a stop at Callie's for their famous "hot little" biscuits.
If you don't know what I'm talking about let me introduce you! Callie's Hot Little Biscuit is a handmade biscuit company with a small family of bakers keeping the tradition of Southern biscuit making alive. Owner, Carrie Morey, founded her handmade biscuit business in 2005 with the goal of making the tender, buttery, made-by-hand biscuits of her mother accessible across the country and she absolutely met that goal! They're now an iconic Southern brand with a cult like following and their Charleston eateries are a must when you're visiting the city.
Their Upper King and City Market locations serve a variety of their award winning biscuits, pimento cheese sandwiches and more! The selection changes daily and seasonally, but some of my favorite biscuits are Cinnamon, Buttermilk, Cheese & Chive, Black Pepper Bacon and Blackberry. I also HIGHLY recommend trying their Pimento Cheese Biscuit Sandwich! Worth noting: they have made to order Gluten Free biscuits!!
476 1/2 King St., Charleston, SC 29403 | 188 Meeting St., Charleston, SC 29401 in Charleston City Market
---
Sunset Sail with Schooner Pride
Schooner Pride is Charleston's only 3-mast tall ship. Modeled after an 18th century coastal trading schooner it sails daily for dolphin sails and sunset sails. You cruise through Charleston Harbor as the sun sets behind the city, illuminating the skyline of countless steeples in the Holy City.
I've taken a Sunset Sail with Schooner Pride every single time I've been to Charleston and its an activity I always recommend if you're visiting and the weather is good!
There's no set course and the departure time fluctuates depending on the time of year to ensure the perfect sail! Also worth noting, this isn't a narrated cruise, but the crew is extremely knowledgeable and would love to chat with you and answer any Charleston questions you have.
Boats tours are usually rain or shine so make sure to check the weather prior to departure. I always suggest bringing a jacket of some sort even during the summer because it can get chilly on the water and if there's a chance of rain bring a poncho!
Sails leave from Harbor Walk – College of Charleston.
---
Shopping on King Street
King Street is definitely Charleston's most famous street and you'd have a hard time NOT visiting it on a trip to Charleston. It runs from Charleston Harbor to uptown and is the main shopping district in the city with 3 distinct sections – the Design District, Fashion District and Antique District! It's no surprise that King Street is constantly named one of the top shopping streets in the nation by multiple publications.
I'm a sucker for all the cute.
So, all these Southern boutiques along King Street are definitely on my list. Also, make sure to stop by these small local stores if you happen to pass them: Blue Bicycle Books, Croghan's Jewel Box, Candlefish Charleston, Finicky Filly, Worthwhile, Clayton and Crume.
And while King Street is now mostly known for it's amazing shopping, restaurants, hotels, art galleries and more, it is also the second most historically and architecturally significant street in downtown Charleston after Meeting Street. It was named after King Charles II of England and served as the main highway for the early settlement of Charles Towne.
King Street from Broad Street to Spring Street
---
Lunch at 167 Raw Oyster Bar
167 Raw is a New England style Oyster Bar in the heart of historic downtown Charleston that prides themselves in the freshest seafood and it was such a life changing meal that it easily made it on my list of things you must do in Charleston.
Start with a 167 Dirty Martini with house blended tequila (yes tequila, not gin or vodka…trust me) and Calabrian Oil…it was literally one of the top 3 dirty martinis I've ever had (and I've had a LOT). I highly recommend oysters (obviously), the Oven Roasted Crab Dip and the Tuna Burger. Also make sure to ask your waiter for recommendations and specials, the day we were there they had a Scallop Elote special that was to die for!
It's first come, first serve, no reservations, so that's why I suggest going for lunch because the wait tends to be a tiny bit shorter. Believe me though it's worth it! We actually ended up sitting at the bar because seats there were first available and we had a great time so don't be discouraged if you're seated there!
193 King St., Charleston, SC 29401
---
Rooftop Drinks at The Citrus Club at The Dewberry
There are TONS of rooftop bars in Charleston, The Watch Rooftop, Fiat Lux at Hotel Bennet, The Cocktail Club, Eleve at Grand Bohemian Hotel, Pavilion Bar, Uptown Social, just to name a few, but the best rooftop in my opinion is The Citrus Club at The Dewberry!
Located in the Historic French Quarter in a building that was once the Mendel Rivers Federal Building, The Dewberry is a luxury hotel offering old world charm with a distinctive modern edge. The Dewberry's 8th floor terrace features the highest rooftop in Charleston and is home to the modern chic rooftop cocktail lounge, Citrus Club. The views are unmatched. You can see all the church steeples in the entire city and most of downtown. Also, the Marion Square, the Cooper River, the Arthur Ravenel Jr. Bridge and even to Mount Pleasant! And the vibes are immaculate. It's pink and white striped couches, chic rattan chairs, and checkered floor. Also, there is more this is one place you definitely don't want to miss!
Citrus Club is first come first serve. So, during busy season I suggest getting there when it opens at noon for the best chance to snag a table without waiting! Highly recommend the Blood Orange Mimosa & Coconut Daiquiri to drink and the Citrus Salad, Dewberry Smash Burger and Loaded Fries to eat!
334 Meeting St., Charleston, SC 29403
---
Snap a Photo on Chalmers St
Also in the Historic French Quarter you'll find Chalmers Street. Chalmers St. is one of only eight remaining cobblestone streets left in Charleston and one of the most photographed streets in the Holy City.
Chalmers St. is filled with colorful historic homes. It's most notably the "Pink House" at 17 Chalmers Street, built in the late 1600s. Also, made of Bermuda stone that was brought on the ships to the docks. It's considered the 2nd oldest in Charleston. Moreover, the combination of the pink exterior, original gambrel tiled roof and cobblestone road make it one of the city's many popular tourist attractions.
Chalmers St. is also home to the Old Slave Mart Museum.
It's located at 6 Chalmers Street. It is once housed an antebellum period slave auction gallery. Also, it is now the first African-American slave museum. It's believed to be the last extant slave auction facility in South Carolina. General admission to the museum is $8. So, I suggest giving yourself an hour to walk through and read all the informative posters.
Looking for more of Charleston's cobblestone streets to explore? Check out Adger's Wharf, Gillon Street, Longitude Lane and Philadelphia Alley.
Chalmers St., Charleston, SC 29401
---
Admire the Steeples of Old Churches
By reading this post you've probably learned that Charleston's most famous nickname is "The Holy City." It is because of its history of religious tolerance and the sheer volume of places to worship there. Today, the city skyline is defined by over 400 church steeples!
Fun Fact: No buildings in Charleston can be taller than the highest steeple which is at Saint Matthew's Lutheran Church and stands at 297 feet.
The most notable churches are St. Matthew's Lutheran, Citadel Baptist, French Huguenot Church, St. Philip's, the Cathedral of St. John the Baptist and St. Michael's Episcopal Church, but like I mentioned above these are just a few of the hundreds that scatter the peninsula!
Now these churches are mainly houses of worship. These are also great examples of the different architectural styles that have been popular throughout the last few centuries. However, in the past these churches (and steeples) had many other jobs. These were navigational landmarks for vessels, bell towers, timekeepers, watchtowers and more!
The best way to see the city skyline and all the steeples is definitely by hanging out at one of the many rooftops I mentioned above or taking a boat tour (sunset is my favorite time because the sun setting behind the skyline really defines all of the spires in the air).
---
Other Popular Charleston Activities:
South Carolina Aquarium

Experience all the different South Carolina Habitats in one place! From bald eagles in the Mountain Forest area to a famous 220lb loggerhead sea turtle in the Ocean area and everything in between! There is even an area that serves as a hospital for sick and injured sea turtles for guests to experience.

Waterfront Park & the famous Pineapple Fountain

I know it might seem silly that I didn't include the Pineapple Fountain on this list. BUT it's on everyone other list and the chance of you missing it while in Charleston in VERY SLIM!

Charleston City Market

A historic market stretching 4 city blocks that will be hard to miss when you're walking around downtown Charleston! Browse all the vendors if you have time when you're in the area.
Restaurant recommendations & hotel recommendations can be found in my First Timer's Guide to Charleston!
If you're looking to venture out off the peninsula here are some places I recommend visiting:
Drayton Hall Plantation
Magnolia Plantation Gardens
Sullivan's Island
Folly Beach – I have a whole Folly Beach Travel Guide coming soon!
Isle of Palms
Fort Sumter National Monument
want more Southern USA Travel Guides? Check Out:
PIN my 10 Things You Must Do in Charleston post for LATER:
Location: Charleston, SC | Photos: Tracy Davis & myself