BACK with another Affordable H&M Capsule Wardrobe…this time it's a WINTER Capsule Wardrobe! This one is much more casual than my Fall & Summer Capsule Wardrobes because let's be serious…we're all pretty much living in loungewear…even more than the past few seasons because it's just too cold to go anywhere. But don't worry when you have to leave the house I've got you covered!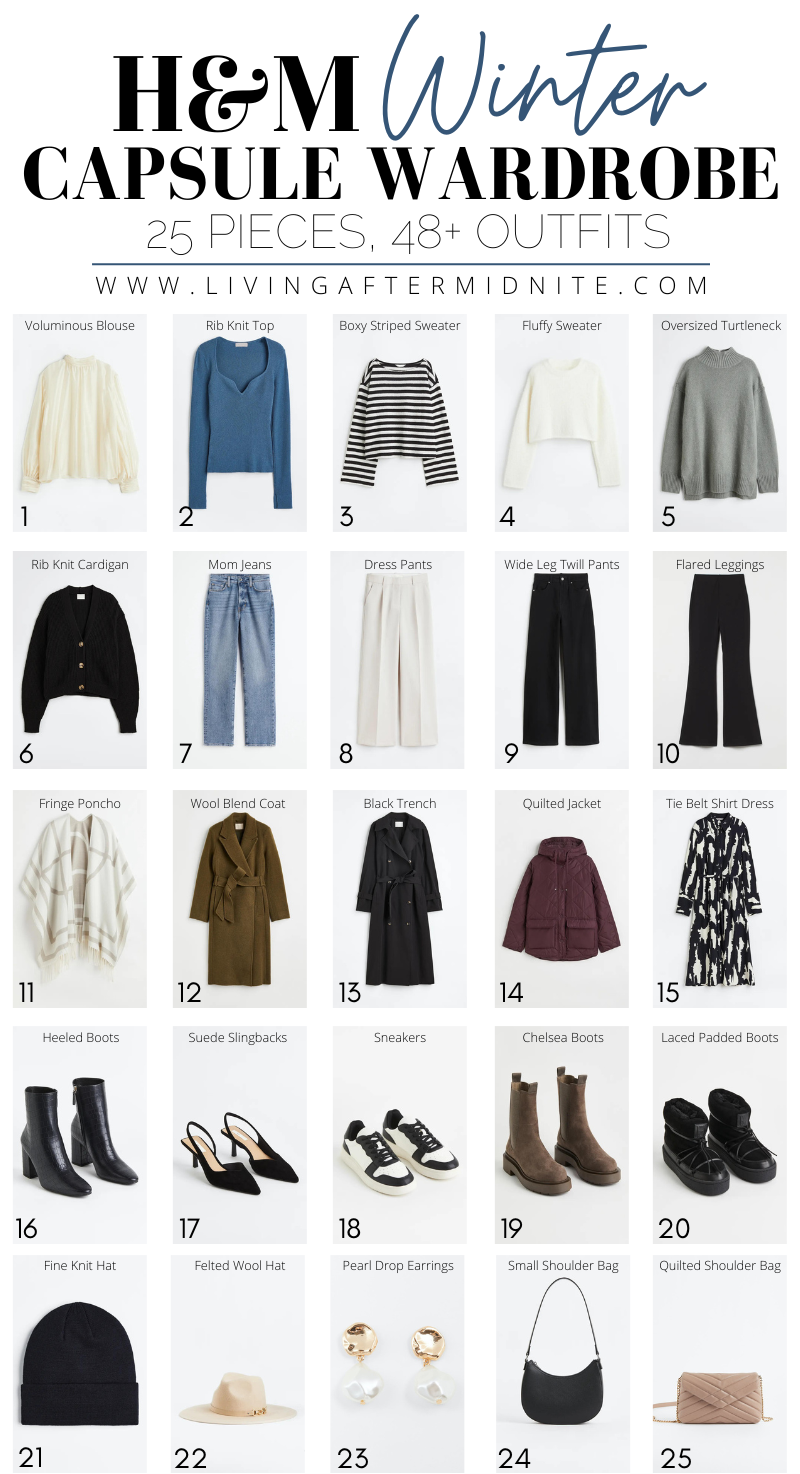 So as always I included a variety of outfits – some work-appropriate if in the office, PLENTY work from home appropriate that are put together on top. And also more casual on bottom, lots of outfit ideas with jeans AND LOTS of loungewear looks that are comfy and cozy but you can still go out in.
I picked 25 pieces including three coats, LOTS of sweaters, boots, leggings and more! I'm sure plenty of this stuff you guys already have similar items in your closet. But H&M's price point is so amazing that you won't mind picking up an item or two if you're missing anything. I'm also LOVING the color palette I chose for this Winter Capsule Wardrobe. It's filled with warm neutrals and basic blacks with a sprinkle of subtle pops of color and lots of cozy texture. I think no matter what your style is, this winter capsule wardrobe will give you plenty of outfit ideas this season.
I have a lot of fun creating these capsule wardrobes and so far H&M has been the best retailer to use because they have great prices, a variety of sizes. And I love the clothes, but if you'd like me to make one using a different store let me know!!
H&M Winter Capsule Wardrobe Items:
The "going out" top is back and if I never thought I'd be excited about it. But the 2022 version of the "going out" top is much more sophisticated than the 2007 one. And this sheer blouse is exactly the type of top you should be reaching for to wear this your jeans this winter. It's also available in black in case this creamy white isn't your thing.
Sweetheart necklines are my favorite and if you love them too then you need this top! It's available in this muted blue color, but also black, green and red and can easily be worn year round.
I'm a sucker for a boxy sweater and this black and white striped one was calling my name! In fact, I already own this one AND the black version and I'm obsessed.
This relaxed fit sweater in a fluffy knit is reminiscent of the holidays, but also is giving snow bunny vibes which I'm majorly into! I also love purchasing one inexpensive white sweater every Winter and this is the one I have on my radar for 2023.
An oversized turtleneck should be a staple in everyone's permanent closet, but it's especially essential for a Winter capsule wardrobe. This one dusty green will keep you warm all winter and the color transitions well into Spring.
Cardigans are still having a moment and this relaxed fit black one with tortoise buttons is calling my name. It can be dressed up or dressed down, worn open or closed and perfect for this time of year.
H&M jeans are some of my favorite and these mom jeans are my ABSOLUTE favorite! I actually just bought this wash and I already know they'll be on heavy rotation!
I LOVE winter white and since everyone already has a pair of black dress pants in their closet I also figured I'd push you out of your comfort zone a little bit with this white pair. And if white pants aren't your thing don't worry…all the outfits I created with these work just as well with black (or any other neutral) pants.
I've been REALLY into the wide leg silhouette lately and black pair is a great option if you're looking to add a pair into your closet! They're pretty inexpensive and they can easily be worn to work or "dressed up", but can also be worn with sneakers.
I put up a survey on Instagram asking if everyone loved or hated that yoga pants were back in style and a majority of you were excited about they're resurgence and I couldn't agree more, BUT I will say you will NOT catch me calling them flared leggings, they are forever and always yoga pants.
I know that ponchos aren't necessarily Winter weather appropriate it you live in a cold climate, but I love the option of wearing a poncho as a scarf over your coat and then being able to keep it on your shoulders once you're inside and take your coat off. As the person that's "always cold" draping a large scarf or poncho over my shoulders is a must!
Looking for the MOST CLASSIC winter coat of all time? Look no further than the timeless calf length coat. This will never go out of style and is also a piece of clothing you will never regret buying. The dark khaki green is a favorite of mine and absolutely a neutral!
This relaxed fit, ankle length trench coat is made with a woven fabric so it's warmer than your lightweight trench and perfect for Winter!
These sporty quilted jackets are IN right now and this quilted, windproof, water repellent one is on my radar! I love the dark brown/purple color and Love that you can throw it on with sweats or workout clothes, but it also looks super cute with jeans!
Every capsule wardrobe needs a fancy dress and this calf length tie belt dress is just that for my 2023 winter capsule wardrobe. I personally love the black and white pattern because while it's a neutral it's still a pop for your wardrobe! You can layer it under a sweater or blazer and you can even wear it open with pants and a top under.
I love a heeled ankle bootie and these are chic and easy to wear with pretty much everything! They're available in both a smooth black faux leather or a croc leather (I'm partial to the croc especially in the Winter because they'll hold up better and show less signs of wear!)
The chicest pair of slingback suede heels! The low heel makes them really wearable and they'll go with pretty much every outfit I've included here.
In past Capsule Wardrobes I've always included white sneakers, but this black and white pair with faux suede and leather were calling my name.
These dark beige Chelsea boots are nice change from the black Chelsea boots that we've seen over the past few season!
These padded boots are having a MOMENT this season and I'm kinda loving them! I really never thought I would because they're not really my style. BUT they have grown on me and not only they really functional they go with so much.
I love that this quilted bag has an adjustable strap so it can be worn as a crossbody and a shoulder bag. And you can also tuck the strap in to use it as a clutch.
This soft knit hat is the perfect neutral accessory to all the winter outfit ideas I put together. If you're also looking for a pop of color this hat is also available in a bright green.
With Yellowstone being THE show to watch adding a wide brim hat felt necessary! This light beige one will keep your head warm and it's also super cute.
Pearls are having a moment and these gold and pearl drop earrings go with so many of the outfits I created here. They're also affordable enough that if you realize the pearl trend isn't for you (or if they gets tarnished) they can go right in the trash.
The early 2000s are back in full force and this small shoulder bag proves that! The smooth faux leather and simple style makes this one extremely versatile.
Quilted bags are IN and this beige one goes with so many of the winter looks I created.
48 Winter Outfit Ideas:
PIN the Cold Weather Capsule Wardrobe for Later:
SHOP my 25 Piece Winter Capsule Wardrobe:



Shop my H&M Winter Capsule Wardrobe: